Venue
---
Crowne Plaza Hotel - 4*
Crowne Plaza Limassol is the closest beach hotel to the commercial district (1km), the city centre and the old town. The former Holiday Inn Limassol,renovated and rebranded Crown Plaza Limassol as of May 2011, aims to give a new dimension to hotel services in Limassol. Many shops and restaurants are in the immediate vicinity of the hotel, with discos and nightclubs an easy walk with the lively tourist area just half a kilometer away.
 During the sunset, the new Olympion seafront promenade provides a very pleasant stroll along the sea front from the hotel to the old town.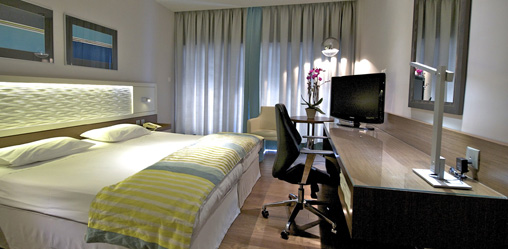 The 144 standard and executive rooms and suites provide comfort and coziness as the pale beige fabrics blend with dark furniture; whereas the dim lighting completes the scene. 
Standard rooms with choice of double or twin beds, feature: electronic security lock, wired and wireless HISA internet connection, satellite flat screen 32" TV, mini-bar, tea/coffee making facilities, pay movies, voice mail, Free mini-bar, hairdryer, en suite bathroom.
There are 4 food and beverage outlets within the hotel:
Ascot Lounge Bar: for drinks and snacks, with live entertainment most evenings
Pool Parlour Bar: refreshing and thirst crunching drinks or Pool Pergola: for light dining
Haven Restaurant and Terrace: open daily serving a la carte or buffer dinner
Extensive Lounge Terrace: overlooking the pool is a meeting point throughout the day for special cocktails or coffees during the day
Meeting Facilities
There are two main meeting rooms:
Westminster: Divisible into 3 soundproof smaller rooms (Westminster a, Westminster b and Westminster c) or a combination which can accommodate up to 300 people in a theater setting style.
Boardroom: Smaller room, suitable for board meetings. Facilities: The hotel has ramp access for the disabled, parking spaces available, an outdoor heated pool, a fitness centre, sauna, jacuzzi, hammam, massage parlor, an indoor playground for children, cash machine, currency exchange, and dry cleaning / ironing services.
General Facilities
Entertainment: Cyprus/ Greek, Italian theme nights. The hotel also features a Children's playground. If you are sports fanatics, you can find the 24 - hour gym room wide selection of gym equipment, or compete against another player at the floodlit tennis court.
Also available: The Sauna and Steam Room, indoor pool (heated in winter months) , Jacuzzi and the spacious outdoor pool.
Distances:
From the Hotel to City centre: 7.1 km, 14 minutes
From the Hotel to Larnaca International Airport: 67.8 km, 57 minutes
From the Hotel to Paphos International Airport: 64.6 km, 51 minutes
From the Hotel to General Hospital: 12.7 km, 17 minutes
From the Hotel to Limassol Archaeological Museum: 7 km, 14 minutes
Transportation: City Bus Stop at hotel entrance/ Taxi stop within hotel premises 
---
Organizers:
---
IWBF 2016
Location
Limassol, Cyprus
Dates
03 - 04 March, 2016
Venue
Crowne Plaza Hotel - 4*
Contact
For academic matters please contact:
Nicolas Tsapatsoulis
Cyprus University of Technology
P: +357 25 002 614
F: +357 25 002 664
Andreas Lanitis
Cyprus University of Technology
P: +357 25 002 569
F: +357 25 002 698
Co-ordinators
Questions including Accommodation and Travel Arrangements
P: +357 22 591 900
F: +357 22 591 700